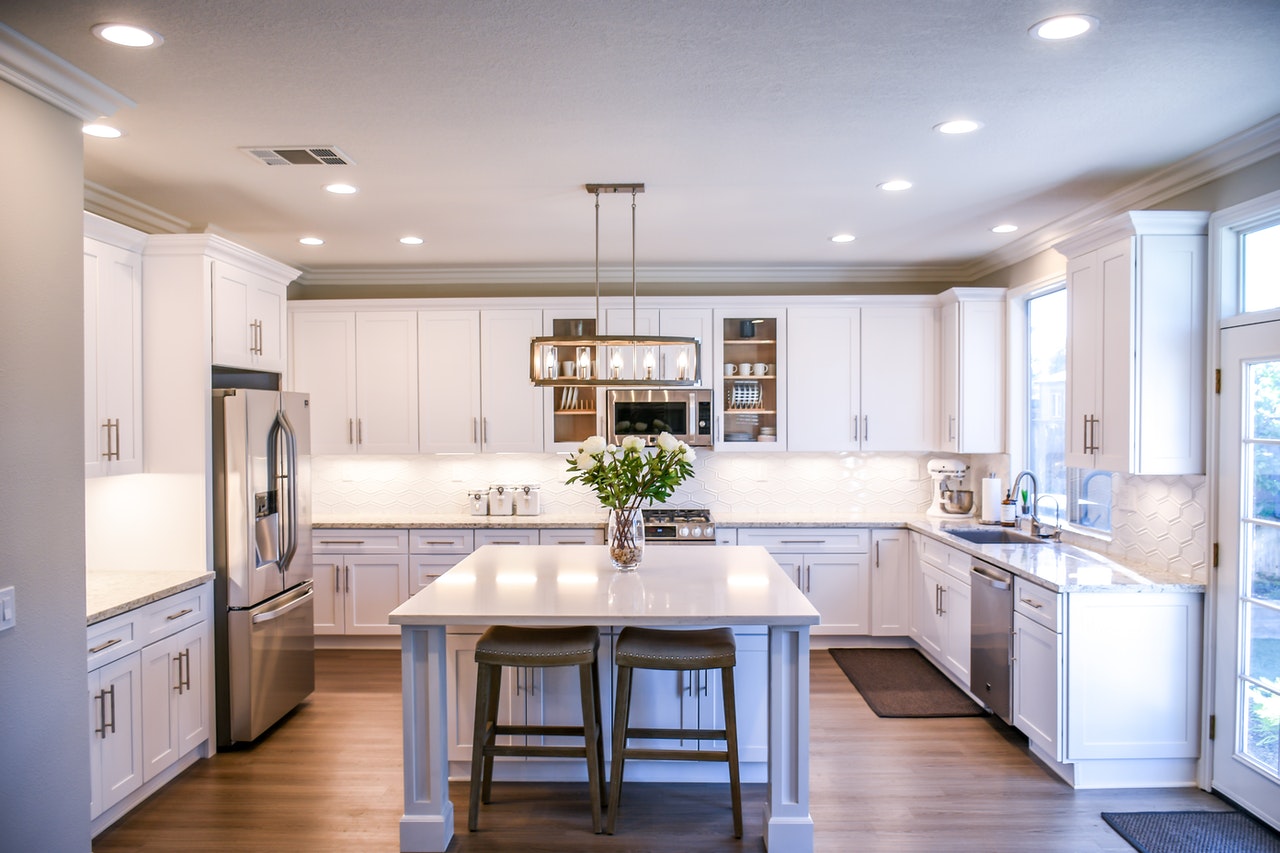 Materials to Match Personality
Individuality is a key trend in material choices for your Long Island home in 2021. Whether you prefer old-world classics or gravitate toward clean, contemporary designs, there is a stone look to match. Our team can help you find the stonework that reflects your personality and meets your needs.
Marble continues to be a top choice for its versatility and elegance. This natural stone is found in a variety of colors such as traditional white, pink, gray, black and green. The bath and kitchen are taken to the next level of luxury with marble. Pillars and banisters made of this classic rock are timeless choices while remaining current.
If you are going for a sleek look, neutral-colored stones add sophistication. Your minimalistic surroundings will have a clean finish with lighter-toned quartz or black onyx. Quartz in grays, creams and tan mixes well with furniture and fixtures with simple lines.
Do you prefer an outdoorsy look that reflects your natural surroundings? Consider stone with warmth and depth that brings to mind the beauty of nature. Granite with brown or red tones can give a woodsy feel. These stones are especially appealing in country homes or even just a casual family room or rustic-style kitchen.
Unique Finishes with Flair
Mackson Marble and Granite customers are also selecting finishes this year that add layers of texture to their homes. Leathering is a look that comes from abrasion with a diamond-tipped brush and gives a raw finish to the stone. Stone with a honed finish has a smooth, matte surface. These textures are trending for everything from countertops to flooring.
Others are going for smooth surfaces like those of marble or onyx to complement a modern kitchen or bath. This is a look that says luxury and sophistication.
Edging on countertops is on-trend in 2021. Mitered edges, particularly those with a thicker perimeter top the list of choices. Waterfalling, a look that continues the stone down the side of the counter gives a clean, cohesive finish in a kitchen or bath. This look is a trend in contemporary homes.
Statement-Makers
Our local Long Island design professionals are seeing homeowners elevate spaces to a new level with stone as a focal point. Floor-to-ceiling looks are trending this year with statement walls created from one-of-kind pieces of marble or quartz. These wall features add elegance to a dining room or foyer and depth in a bedroom or den. This high-end look can be achieved on a smaller scale with stand-out backsplashes in granite or quartz. Another trend is to wrap the fireplace in natural stone to frame a crackling fire.
Your Long Island home's entrance should set the tone. Rustic stonework around a doorway or elegant columns in a portico create a focal point and increase the value and curb appeal of your home. We can custom-cut trim and help you select slate roofing or granite tile for the entrance to your home, giving it a distinctive appearance.
Sometimes the stone itself is a statement. Features unique to the stone add visual impact to a room. Some varieties like marble and granite have natural veins of mineral deposits in contrasting hues that will provide a pop of color. Others, like quartzite, have metallic glints that add sparkle to a space. Natural stone also has unique patterns, giving your home a custom look. Granite can have a variety of minerals and colors in its composition, so the possibilities for making a statement are endless.
Outdoor Living
A comfortable, functional outdoor space should be an extension of your family's home design. The trend to build beautiful backyard and garden living areas has taken off as more people entertain and work from home in 2021. Outdoor kitchens, screened lounge areas and patio dining spaces are now integral, well-used parts of a home.
Your next outdoor gathering can be around a barbecue set in granite or with bare feet on a cool, smooth slate patio. Cocktails on the terrace are especially refreshing on a marble outdoor bar countertop. Entertaining friends and relaxing with family outside is even easier when you have the versatility and durability of the same materials used in your indoor kitchen.
Consider function as well as beauty when selecting stone materials for your outdoor areas. Granite is naturally slip-resistant and gives an elevated touch to a pool area. If you want a garden path that will last, quartzite resists weathering while adding texture and color.
As you design your next home remodel or begin new constructions, the stone design trends for 2021 provide a range of options. Mackson Marble and Granite's premium quality inventory has selections to personalize your home as well as add to its value. Our local Long Island natural stone professionals can help you find the perfect stone for indoor and outdoor spaces.
Contact Mackson Marble and Granite today for a personalized consultation at your home or our Long Island stone yard and warehouse!